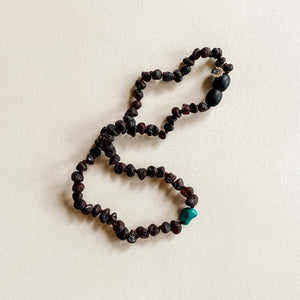 Peace Babe is designed with Raw Dark Cherry Amber and Arizona Turquoise beads.
TURQUOISE the stone of protection. It dispels negative energy and can be worn to protect against outside influences or pollutants in the atmosphere. Turquoise is also known for anti-inflammatory and detoxifying effects. 

Only A grade, undyed, unenhanced gemstones are used. 
More information on my sizing can be found here. 
Each piece is handmade and therefore unique so may vary in size and appearance. It features a screw safety clasp and is knotted for safety and piece of mind.
Learn all about Amber here
Full Terms + Conditions here