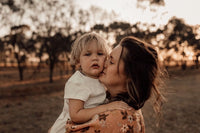 My Story
My name is Jade and I am a designer, a mama, a lover and a creator. From the moment I birthed my first son, I knew that something in me shifted. Moving into a feminine and creative side. Gentler, softer. Wanting to explore the simple and beautiful things.
I have followed Heidi's journey for many years now and when she was looking for a new mama to take over this creation of hers it really felt like the stars aligned. The process was so easy. We both knew that this was meant to be.
Designing pieces that evoke both beauty and magic to myself and my children. Creating something that can be handed down between brothers and sisters, shared and enjoyed. Loved and treasured.
Read More
Sustainability
I believe the Earth and her Communities need real labels created by real people. 'Real' meaning aware, conscious and connected to the deeper intricacies of life. A label that hasn't just been developed because there was an opening in the market. But a label created from genuine love.
There is always a story behind each and every product you consume. The creator of the label and the consumer need to be aware of that story.   
Our earth is calling for us all to wake up. We have been asleep for too long. We need labels that make it easy for busy consumers to buy consciously. To support a slower mentality of quality over quantity that is just one of the tiny steps that we can take to support an overall system of SLOWING down. 
READ MORE