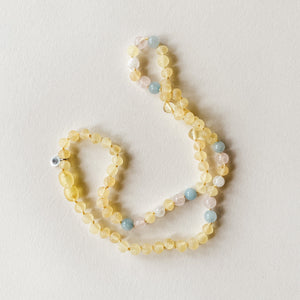 Bebe is designed with Raw Lemon Amber and A Grade Rose Quartz beads, A Grade Moonstone and A Grade Aquamarine.

ROSE QUARTZ the stone of infinite peace and compassion. It enables open expression of emotions which allows for a deep inner healing and peace. 
MOONSTONE the stone of openness. Enhances attunement to the rhythms of mother earths cycles. 
AQUAMARINE the stone of flow and release. Facilitates the releasing of old patterns of behaviour that no longer serve, and that actually inhibit one's growth. Aquamarine can calm fear and worry, by opening the mind up to understanding the nature of Divine perfection in the universe.

Only A grade, undyed, unenhanced gemstones are used. 
 More information on my sizing can be found here. 
Each piece is handmade and therefore unique so may vary in size and appearance. It features a screw safety clasp and is knotted for safety and piece of mind.
Learn all about Amber here
Full Terms + Conditions here